BACK TO NEWS
Racketball goes from strength to strength at Club Towers
26 April 2022
We are really pleased to see the growth of Racketball in the Club this year and wanted to share some team news. For those that don't know, Racketball is the younger brother to Squash. Squash is thought to have been invented by school kids in 1830, whilst Racketball records start in America in 1949 which is the game we play today. Equally fast paced and dynamic to play there are some differences; the main ones being the sizes of racquet and ball. Squash racquets are 27 inches or shorter, whilst Racketball racquets have a maximum length of 22 inches. Racketball balls are 57mm diameter compared to Squash's 40mm and they are also heavier and bouncier, which means the ball moves slightly slower than a squash ball. The rules of serve are also different between Squash and Racketball.
With a growing number of members interested in playing competitive Racketball, we've been able to create a competing team and this April, for the first time since the Club opened, we entered a Club Towers team into the Northants Spring League.
The first match against Diana's Club (Wellingborough) on the 20th April resulted in a 5 -0 victory. Our team was made up of Steve Adams, George Allen, Paul Armstong, Ian Muri and Russell West.
The format was 4 x singles and 1 x doubles and we won four of the matches 3-0 as the strength and depth in the Club Towers squad shone through. However, the number one match between George and Odhran from Diana's was a real humdinger … George fought back twice from 0-1 and 1-2 down to win 3-2 in a very long match.
Well done team and thank you to the large crowd who came to watch – an excellent show of support! For those interested in watching the upcoming fixtures are below with home matches starting at 7.15pm. All spectators are most welcome.
27th April – AWAY versus Market Harborough
4th May – AWAY versus Kettering
11th May – HOME versus Lings
18th May – HOME versus Saints
25th May – AWAY versus Diana's
1st June – HOME versus Market Harborough
8th June – HOME versus Kettering
15th June – AWAY versus Lings
We also have a HOME friendly match versus Hunts County (Cambs) on Saturday 14th May starting at 1:15pm.
If you are interested in taking up Racketball why not try our Beginners/Early Learners Coaching course starting on Saturday 2nd July at 2pm to 2.45pm, running for four weeks.  The cost for this course to racquets members is £20 and can be booked at Reception.
For those who can already play, we run our Racketball Club Nights every Thursday 5.45 – 7.15pm. There's no need to book for this one, just turn up and you will be made very welcome.
Entries are also now open for our first ever Racketball Club Championships. There will be grade A and B competitions and then a plate competition for first round losers. Entries are open now with early round matches taking place in May, June and early July and the finals on 14th July. Please sign up on the sheet on the Racketball noticeboard in the Squash corridor by the 22nd May. You can also find out more here.
For more information on any of the above or anything Racketball related, please contact our Racquets Operations Manager Steve Adams on [email protected] or 07896 899467.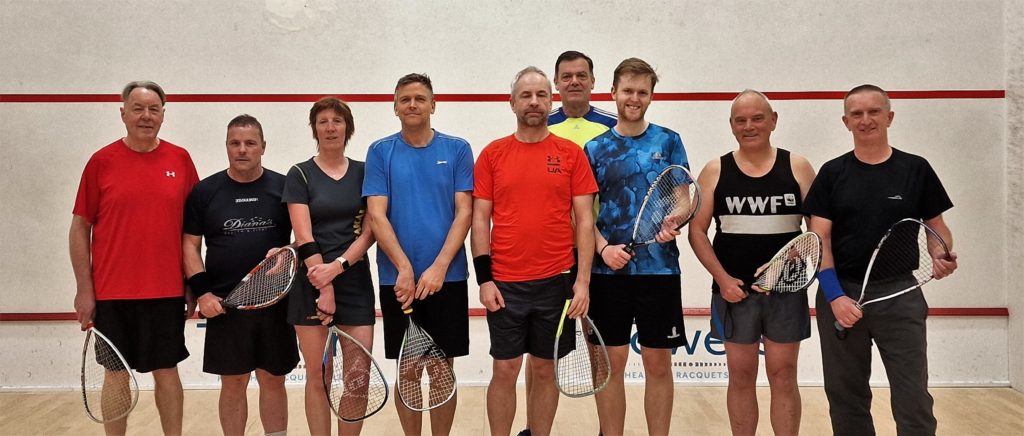 BACK TO NEWS