BACK TO NEWS
A Spectacular Fundraising Year Sees £14,000 Raised for Local Charities
8 August 2023
Every year, our members vote for two local charities to support and last year it was the Sue Ryder St John's Hospice in Moggerhanger and the Elisabeth Curtis Centre, Riding for the Disabled in Bromham. Thanks to a full calendar of events and fantastic support from members and staff we are thrilled to announce that we have raised another record amount of £14,169! As always this is split equally between the two charities.
It's been a busy year of events, with cake and coffee mornings, a spinathon, raffles, a quiz night and our main event – the Summer Ball. This year we introduced a £5 social guest pass and the money taken for these also goes to the charities. Members and staff have come together and shared their time and money through these events to help us reach this fantastic total – thank you!
Most members will know of or have heard of the Sue Ryder St John's Hospice in Moggerhanger and the wonderful work they do to help people and their families at the most difficult time of their lives. Many members and staff have shared experiences and stories of how the hospice and their nurses have made such a difference to them.
Nick Burr Senior Community Fundraiser from the Hospice got in touch to thank all those who contributed:
Sue Ryder is very grateful for the donation of £7,084.50 from Towers Health and Racquets Club members. To put your donation into context, this amount could fund 284 hours of expert and compassionate care from our nurses, therapists, counsellors and physiotherapists. Be it support from our bereavement services, caring in someone's home or in our hospices, our specialist teams pull out all the stops to provide the expert care someone needs. We take care of the practicalities, leaving space for friendships, family and favourite pastimes, allowing final days to be filled with cherished memories and love. The support from organisations like you is at the heart of all of our work – thank you for making our care possible.
Their next event is their Starlight Hike in Bedford whichtakes place on Saturday 14 October at 7pm at the beautiful Everards Meadow. This 5k or 10k route is a family-friendly walk under the stars, celebrating the lives of loved ones. With live entertainment, an electrifying glow stick fitness dance session and entertainment en-route and as a thank you to the Club for our support over the last year, they have given members a 25% discount code. Use TOWERS25 at the checkout Starlight Hike Bedford | Sue Ryder They are hoping that those who join them for the walk will fundraise for the charity individually as well. The code is valid until the 31st August.
Portia Willock-Bruce representing the Hospice came into the Club to be presented with our new giant cheque!
The second local charity we've supported, after members chose them back in August 2022, is just up the road from the Club in Bromham; the Elisabeth Curtis Centre, Riding for the Disabled. The Centre is a member of the Riding for the Disabled Association, incorporating Carriage Driving. They provide therapy, fitness, skill development and the opportunity to achieve through the use of horses and ponies.
Al Barnes, Trustee at the Centre, wanted to thank members and share details of what the funds raised will help them to do:
All of us, at Elisabeth Curtis Centre Riding for the Disabled, are so thrilled to receive such an amazing amount of money as a result of all the brilliant fundraising achieved by everyone at Towers Health and Racquets Club. We hope you all had great fun raising the money over the past year. The costs involved with running our centre are high – not just because of rising costs, but also because demand is high for what we offer to our participants and we are keen to do as much as we can to satisfy those needs. We have recently been able to increase the number of riding sessions each week to bring in new participants from our waiting list, which is great. The therapy, fitness, confidence and fun that our participants receive as a result of horse riding is central to what we aim to achieve. Moving forward we are looking at offering new types of services including a 'Tea with a Pony' initiative and even carriage driving! The amazing support you have offered us through your fundraising will definitely be put to very good use straight away – thank you all so much!
Veronica Bradley from the Centre visited us at the Club to hear the total amount raised and be presented with a cheque from General Manager Steve Davies, pictured below.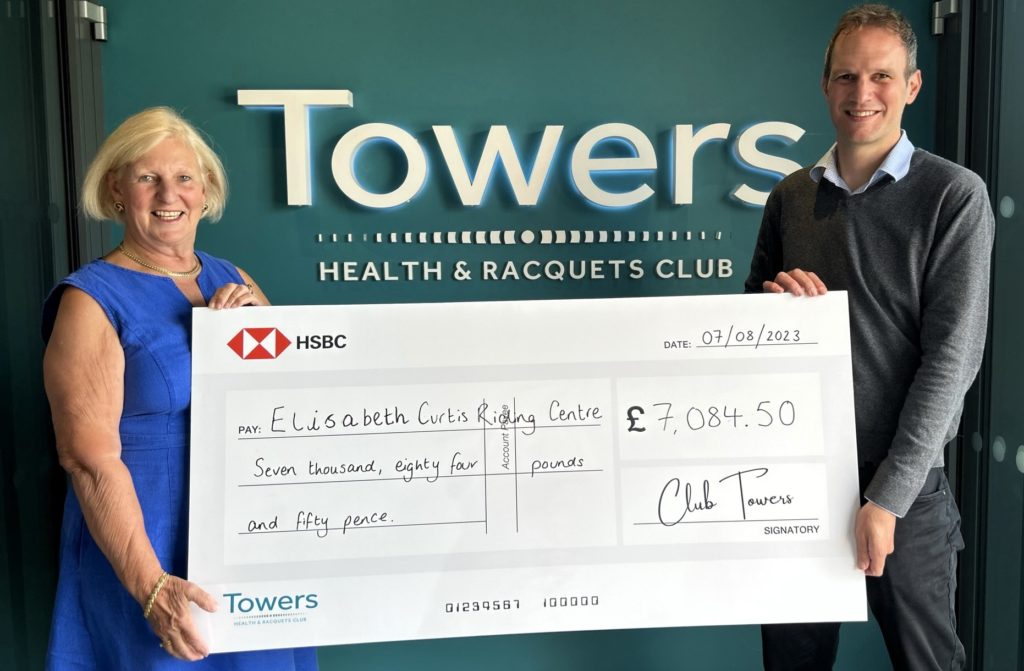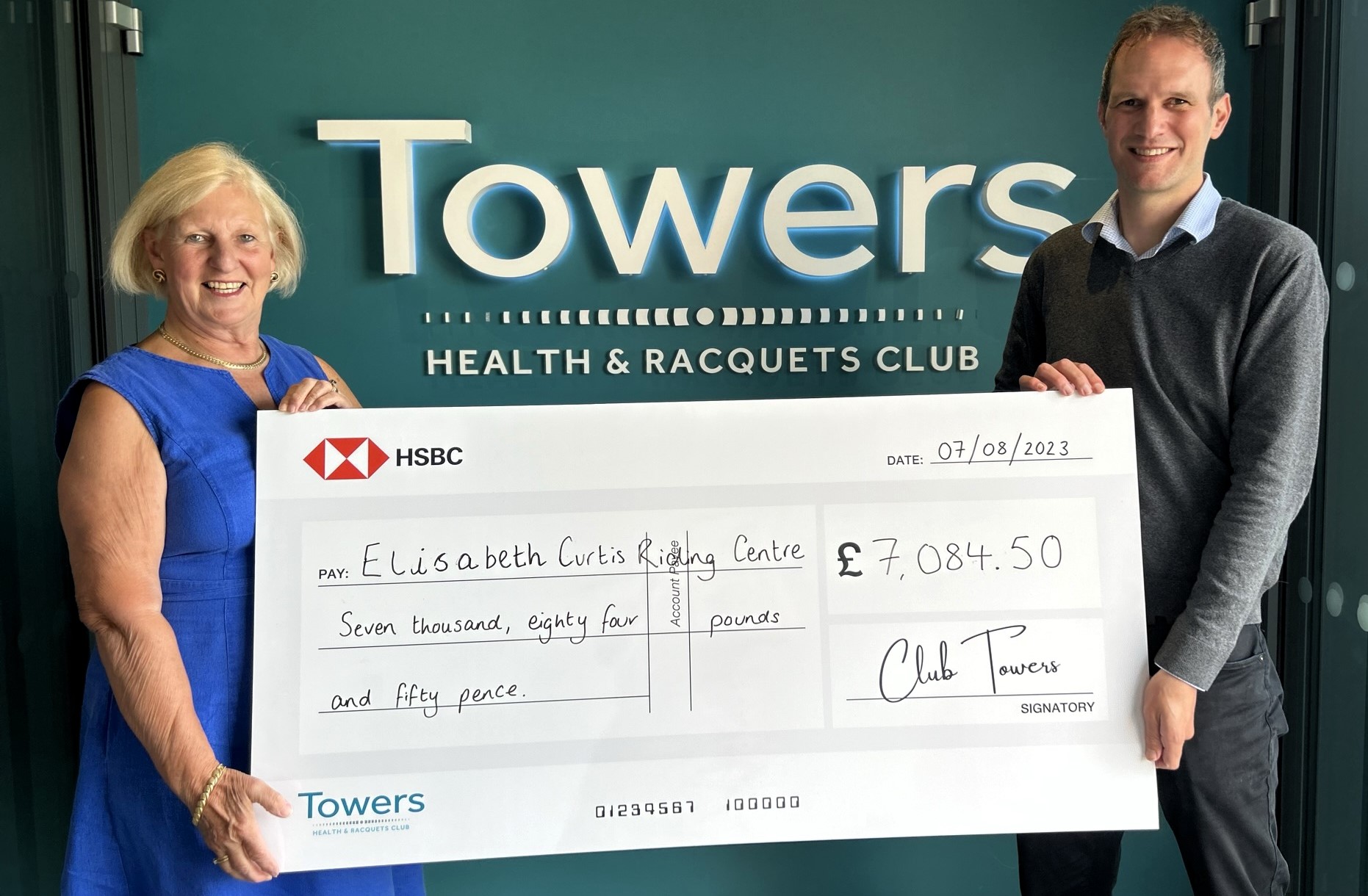 Steve said: "We are so pleased to have raised another record amount – fantastic! This total means that since opening we have raised over £50,000 for local charities, which we are very proud of. Thank you to our members and staff for always supporting our events so enthusiastically and making this possible."
Looking ahead to the next year, the two charities with the most votes from members and therefore the ones we will be supporting in 2023-2024 have this week been determined as FACES and St John's School in Bedford. We look forward to another full fundraising year starting with our popular cake and coffee morning on Saturday 23rd September – one for your diaries!
BACK TO NEWS