BACK TO NEWS
A 2022 Club Championships full of Outstanding Tennis and Tie-Breaks
21 October 2022
Last weekend we held our most prestigious tennis event of the year the Club Championship finals. With qualifying rounds and matches played across the Summer we were ready for a weekend of exciting tennis, and we were not disappointed! Without too many spoilers, five out of the nine finals went to championship tie-breaks! It was more tense than Roger v Novak on the courts at times!
At this point we will hand over to Head Coach Nick Boys for his report on all the action:
Saturday – The "Open" Finals
We started proceedings with our Ladies Singles and Men's Doubles Finals. The crowd were captivated by both matches and it was difficult to choose which to watch!
Ladies Singles
Our defending Ladies Champion Jolanta Hawryluk was taking on a newcomer to the competition, Debra Schmidt. Debra went off fast, taking the first set and then moving ahead in the second. However, Jolanta clawed her way back with some big hitting to take a tie-break second set. This led to a third set "championship" tie break – showdown number 1!. This ebbed and flowed both ways with match points going back and forth until Debra finally made the vital strike to claim her first title 11-9.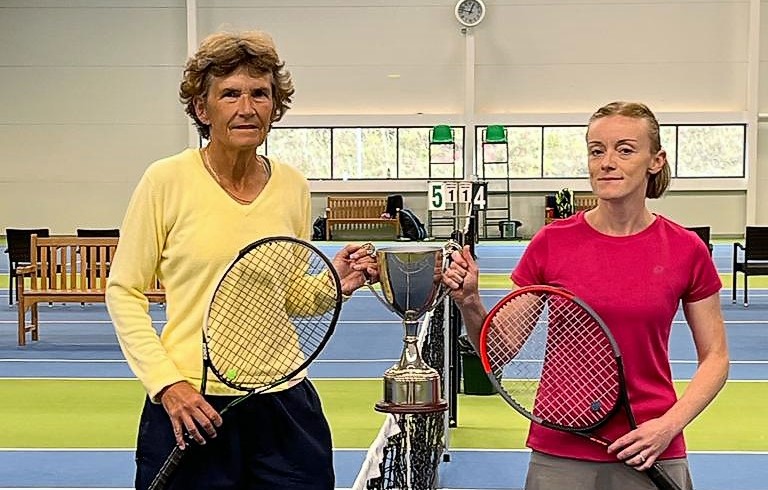 Men's Doubles
James Keothavong and Garry Morris were defending their title against first timers Mas Ciampi and George Swallow and they started strong taking the opening set. The second set also seemed theirs until a late comeback from the challengers took it on a tie-break. Third set tie-break number 2! This was a monster match and the result was impossible to call, but one mighty return meant the title went to the returning Champions, Garry and James, 12-10.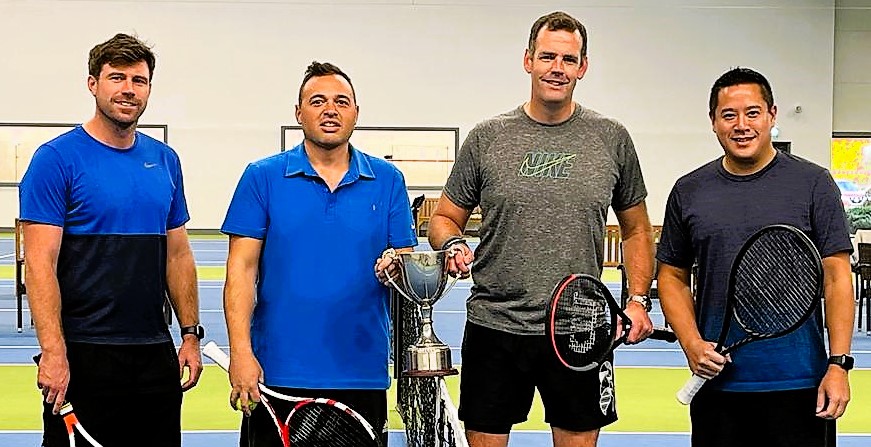 Ladies Doubles
Defending champions Claire Raddan and Emma Tatum-Hume faced Sophie Cable and Jolanta Hawryluk (fresh from her singles). The match started at a brisk pace with Sophie and Jolanta taking a tight first set 6-4 and then going on to claim their first Ladies Doubles title with a swift 6-1 second set win.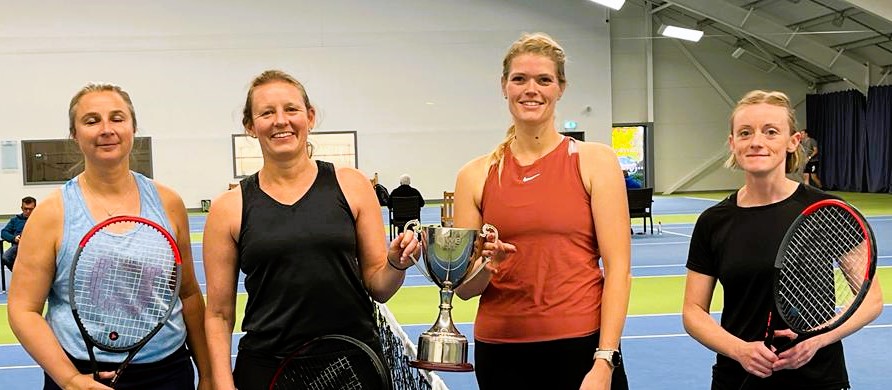 Men's Singles
Meanwhile, the Men's singles was heating up nicely over on the other court. Garry Morris and James Keothavong this time playing against each other. Garry, after taking the first set 6 – 4 seemed to stall in his progress, letting James back in the second set, 6-1, and leading us to a Championship tie break. Third set tie break number 3! Both players were playing at such high levels at times it was a shame there had to be a loser, but inevitably there has to be one. In the end Garry could not quite find enough venom in his shots and James soaked up all the pressure to take the title 12-10 for his "Borg-like" 5th Championship in a row. Congratulations James!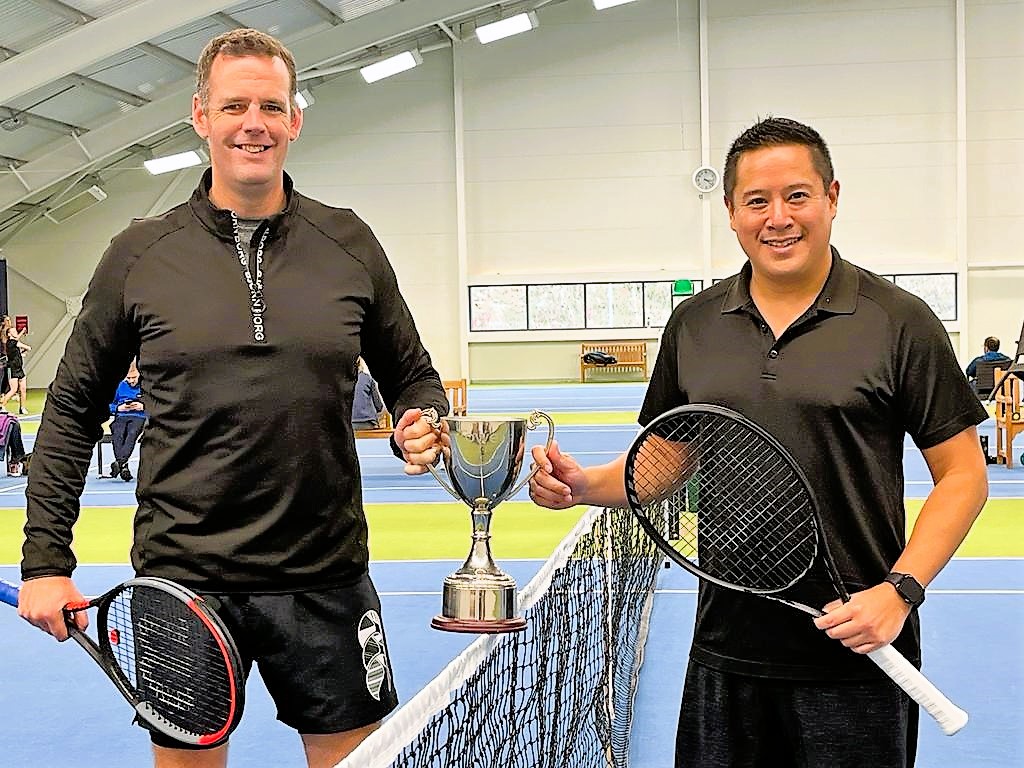 Mixed Doubles
After a break for everyone to calm down, defending champions Garry Morris and Claire Raddan took on James Keothavong and Debra Schmidt in an eagerly anticipated mixed final. Three of the four did not look in great condition after their earlier endeavours but the final was an absolute pleasure to watch. After taking the first set 6-2 Garry and Claire went behind and we looked to be heading for yet another third set tie break. But no!  All of a sudden Garry found his aim and Claire was rejuvenated and they forced a second set tie-break. Momentum was now on their side so that Garry and Claire prevailed in straight sets to close the Open Club Championships. What a day!
Sunday – Vets Finals
And so, to the second day of our finals and it was the Veterans' (Over 45) turn to entertain the crowds. But sadly, we started with a forfeited match in the…..…
Men's Doubles
We must at this point spare a thought for Kevin Smith, who last year was unable to attend his finals match, due to a delayed flight. This year he came down with the dreaded Covid so was again unable to attend. This meant that the match was forfeited to Nick Sleap and Paul Robinson. Wishing you better luck next year, Kevin!
Ladies Singles
The Ladies Singles champion Debra Schmidt was in ominous form as she started very strongly against Claire Grant, taking a one-sided first set 6-0. Claire mounted a small comeback in the second set but it was a bit too late and Debra took the set 6-2 and with it her second singles title of the weekend. Congratulations Debra, that's a first for the Club!
Men's Singles
The Men's Singles between Champion Nick Sleap and David Seymour was bubbling away nicely.
David edged the first set 6-4 but an energised Nick stormed back in the second set 6-1 to take control, or so the crowd thought! However, David had other ideas and played a very sensible Championship tie-break (third set tie break number 4!) to run out the winner 10-7.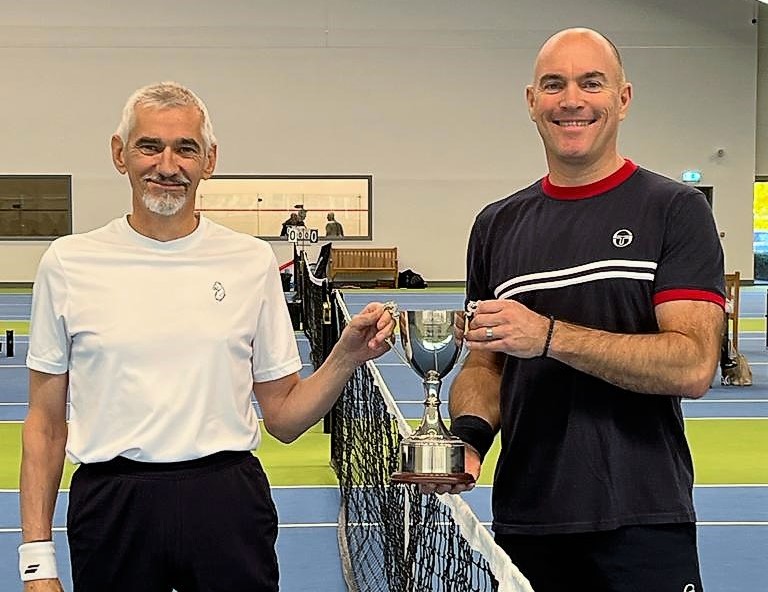 Ladies Doubles
Next on court one was Claire Grant and partner Julie Humpherson taking on defending Champions, Emma Tatum Hume and Amanda Greenland. We saw a tight and exciting first set featuring several breaks of serve, with Emma and Amanda snatching the set 6-4 and with it the match momentum. They secured the second set more comfortably 6-2 to retain their title.
Mixed Doubles
Claire Grant was on court again, playing with stalwart partner Glenn Rudd against Nick Sleap and Emma Tatum Hume, also back on court. Glenn and Claire flew out of the traps and raced to a first set lead 6-3. This was rather against what the seedings would suggest but they were playing the better tennis on the afternoon. It wasn't over though and, as Champions do, Nick and Emma rallied and took the second set by the same score 6-3. Into a third-set Championship tie break again (number 5!)! The crowd were on the edge of their seats again as the lead flipped one way, then the other until Nick and Emma finally took control to take the title 10-7.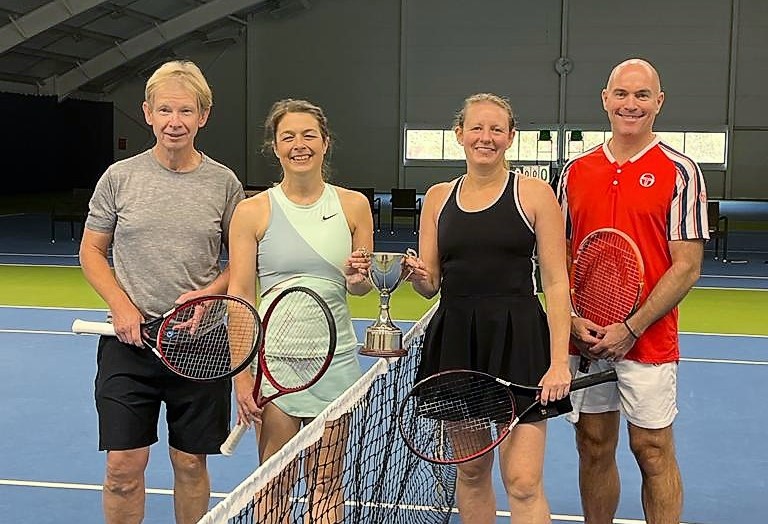 Overall, a fantastic weekend of tennis! Congratulations to all the winners and finalists. Thank you to everyone for entering, playing their matches and for those who came down to watch and support.
With the standard set from the seniors, we turn our attention to the juniors, with their Club Championships at the end of November (26th) – entries are now open.
Our next and last adult tournament of the year is our fun Christmas Jumper Tennis Tournament which takes place on the 10th December (our Christmas Celebration evening) and booking will open at Reception soon.
| | Winner | Runner Up |
| --- | --- | --- |
| Ladies Singles | Debra Schmidt | Jolanta Hawryluk |
| Mens Singles | James Keothavong | Garry Morris |
| Ladies Doubles | Jolanta Hawryluk /Sophie Cable | Claire Raddan / Emma Tatum-Hume |
| Mens Doubles | James Keothavong /Garry Morris | Mas Ciampi / George Swallow |
| Mixed Doubles | Garry Morris / Claire Raddan | James Keothavong /Debra Schmidt |
Winner
Runner Up
Vets Ladies Singles
Debra Schmidt
Claire Grant
Vets Mens Singles
David Seymour
Nick Sleap
Vets Mens Doubles
Nick Sleap /Paul Robinson
Kevin and Richard Smith
(winners due to walkover)
Vets Ladies Doubles
Amanda Greenland /Emma Tatum-Hume
Claire Grant /Julie Humpherson
Vets Mixed Doubles
Emma Tatum-Hume / Nick Sleap
Claire Grant /Glenn Rudd
BACK TO NEWS