Fantastic weekend of Tennis at the 2021 Club Championship Finals!
After the last 18 months of inactivity, we were so pleased to be able to hold our annual Club Championships finals once more last week. Saturday saw the open finals being played and Sunday the Vets and Supervets. At this point we will hand over to Head Coach Nick Boys for his report on all the action:
Saturday: The Open Finals
Remarkably all the competitors turned up on time, even our notoriously late arrivals, which was a good omen from the organisers side of proceedings!
We started with the Ladies Singles and after a tremendous battle, going first one way and then the other, a new Ladies Champion emerged after more than two hours of play. Jolanta Hawryluk was the victor over our reigning champion Claire Raddan, winning 10-8 in a final set tie break. What a match!
However, Claire did manage some revenge with partner Garry Morris in the mixed doubles, as they beat Jolanta and partner Nick Sleap.
It was certainly a hectic schedule for Claire who also retained her Ladies doubles title with Emma Tatum-Hume.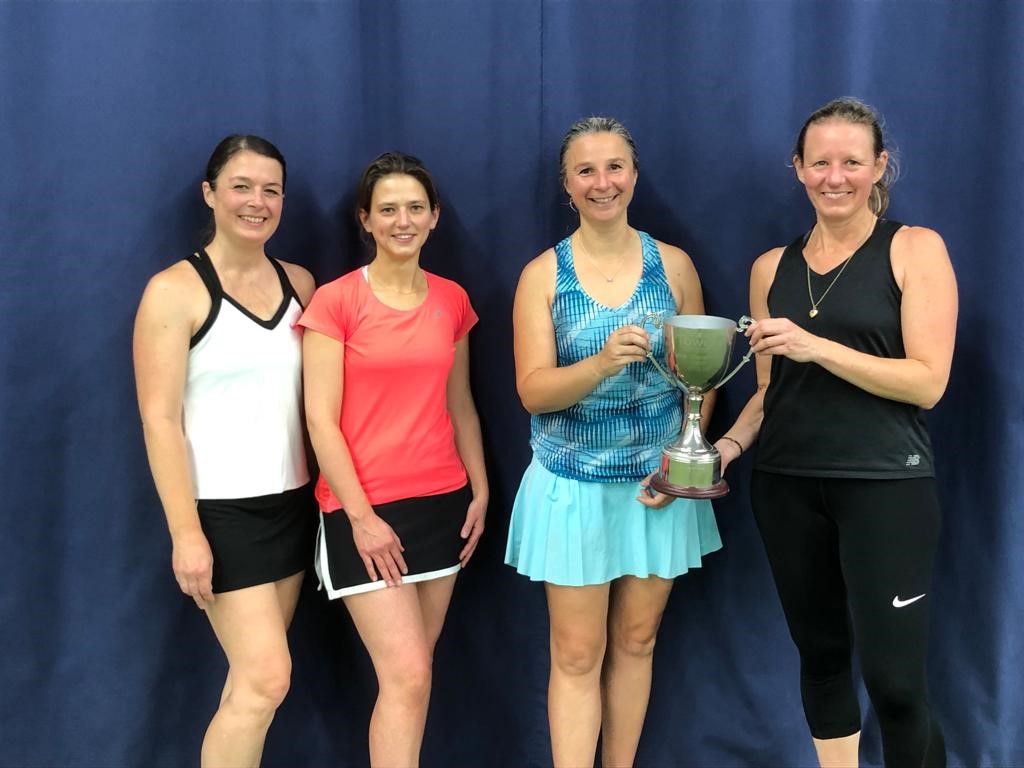 The Men's side of the competition saw another classic encounter between James Keothavong and Garry Morris, with James raising his game at the right time and retaining the title in straight sets. They also retained their doubles title due to a walkover with runners up Thomas Corbett and Craig Westley unable to make the finals. A good crowd were entertained to the end, and I believe a lot of wine and pizza was consumed later in the evening!
Sunday: Vets and Supervets Finals
Starting early Sunday morning with the singles in the Ladies vets, Men's vets and Supervets on all three courts, there was standing room only in the squash corridor if you weren't early enough for a seat.
The ladies on court 1 battled through two very long sets, with Claire Grant emerging victorious over Emma Tatum-Hume. However, in a mirror of the Open Ladies championship, Emma had her revenge over Claire in the Vets Ladies Doubles, winning in two sets with partner Amanda Greenland over Claire and Lisa Woodrow.
However, in a mirror of the open ladies championship Emma had her revenge over Claire in the vets ladies doubles with partner Amanda Greenland in two sets over Claire and Lisa Woodrow.
On the Men's side, Nick Sleap has managed to finally get his name on the champions board with a thrilling three set victory over our current Racketlon champion Ian Thomas, winning 10-8 in the final set tie break. With two fit guys, it was never going to be a short match!
In the Supervets Men's final our evergreen players played out a classic attack versus defence match with victory going to David Seymour in two sets over Steve Adams.
They then faced each other again in the Supervets Men's Doubles where David and Glenn Rudd were just a little more consistent than Steve and partner Tony Blott and won in two straight sets.
Claire returned for the Mixed Vets with Glenn to defeat Ady Phillips and Sue Middlemass in two fun-filled sets to end the Championships for 2021.
Thank you to everyone who entered and spectated over the finals weekend. It's now the turn of our juniors with our Junior Club Championships taking place on the 20/21st November. Entries are now open for all ages at Reception.
Winners & Runners Up Of Open Championships 2021
| | Winner | Runner Up |
| --- | --- | --- |
| Ladies Singles | Jolanta Hawryluk | Claire Raddan |
| Mens Singles | James Keothavong | Garry Morris |
| Ladies Doubles | Claire Raddan / Emma Tatum-Hume | Claire Grant / Katy Page |
| Mens Doubles | James Keothavong /Garry Morris (winners due to walkover) | Thomas Corbett /Craig Westley |
| Mixed Doubles | Garry Morris / Claire Raddan | Nick Sleap /Jolanta Hawryluk |
Winners & Runners Up of Vets & Supervets Championships 2021
Winner
Runner Up
Vets Ladies Singles
Claire Grant
Emma Tatum-Hume
Vets Mens Singles
Nick Sleap
Ian Thomas
Supervets Mens singles
David Seymour
Steve Adams
Vets Mens Doubles
David Seymour /R Thomas
Ady Phillips /Nick Sleap
(winners due to walkover)
Vets Ladies Doubles
Amanda Greenland /Emma Tatum-Hume
Claire Grant / Lisa Woodrow
Vets Mixed Doubles
Glenn Rudd /Claire Grant
A Phillips /Sue Middlemas
Supervets Mens Doubles
David Seymour /Glenn Rudd
Tony Blott /Steve Adams