BACK TO NEWS
Tennis Juniors Delight on Championship Day
2 December 2022
We were absolutely thrilled to see so many juniors join us for our Tennis Club Championships last weekend. Tournaments are great experience for juniors in their tennis journey so it's great to see so many taking part. We had all ages entering from our little U6 hot shots right through to our U16s and we have a brief report for each group.
Under 6 Hot Shots
This group aren't quite ready for a tournament but we are keen that they are included as it's another opportunity for them to be on court and also so they see the older children taking part in the tournament. Coach Dave led four juniors in a series of fun games which they all really enjoyed, there were lots of laughs and smiles from all. They particularly liked getting their medals at the end, very well deserved!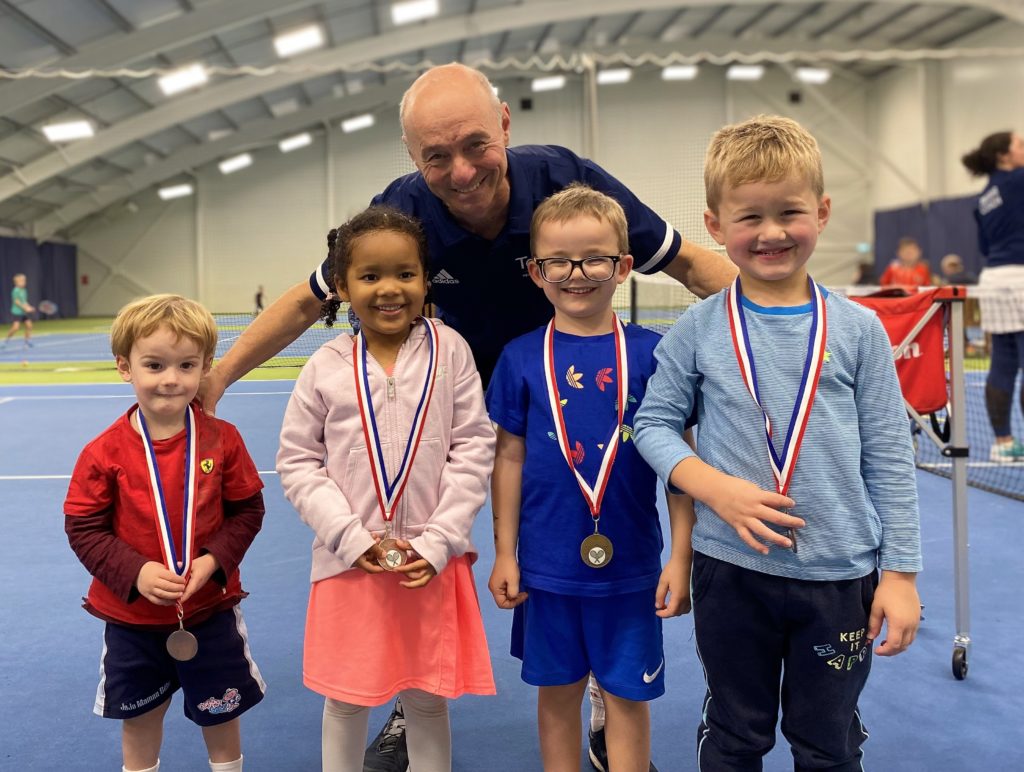 Under 8 Hot Shots
We had a fantastic twelve entries in this group, overseen by coach Boglarka and Assistant coach Jenny. Each group had six children in it, with each child getting six games and playing everyone in their group to a tie break. We decided upon this format as this is what we are seeing in the international field, and it worked well! After some exciting rallies and fantastic matches over the first hour, the group winners emerged, and we arrived at our semi-final stage.
Our semi-finalists were Eleanor, Ernest, Katie and Veer who had battled their way through some very tricky matches to reach this even tougher stage – a knock-out format to the final. Ernest and Veer were up first and started at a frantic pace moving each other around and having long energy sapping rallies. The momentum swung one way then the other until Ernest finally managed to move ahead and take the first final spot. Who would he play in the final?! The girls were up next! Eleanor and Katie both started well and like the boys had some fantastic rallies. In the end Eleanor was just a little too steady for Katie and so advanced to the final against Ernest.
The last match was ready to play after a short player break and the crowd and players settled in to watch the finalists warm up and get ready for their final encounter of the day.
After the first two rallies went on for twenty-five shots each, the crowd realised they were in for a treat! The pace did not slacken and if anything the rallies improved, with some amazing defending and then attacking tennis from both finalists. Ernest proved just a little too consistent for Eleanor on this day and took the 2022 Under 8 Hot Shot Towers Championship. Congratulations to Ernest.
Well done to all the children who participated – they absolutely played their hearts out which is what we love to see!
Under 10 Aces
Another big entry in this age group with eleven players entering. Overseen by coach Nick we followed the same format as the U8s with two round robin groups, followed by the semi-finals.
Like the U8s, the matches came fast and furious and the players matched their younger stars with their intensity and competitiveness. Thank you to parents Mark and Sri for supporting Nick with umpiring. The fitness level, movement, energy and determination from the players was astounding!
After all the round-robin matches were completed, Anoushka, Arka, Finlay and Theo moved onto the semi-final stage by finishing top of their groups. Now it was a straight knock out!
We had Arka and Theo on Court 3 and Anoushka and Finlay on Court 2, battling for a place in the final! The matches were fierce and the rallies intoxicating. The momentum in both matches swung one way then the other until Theo won 10-8 and Finlay won 10-9 – amazingly close!
The final was upon us and both Theo and Finlay were ready to battle it out for the title. Once more there were furious rallies, with Theo taking an early lead and Finlay clawing his way back to take the lead. Nip and tuck all the way brought us to 9-9. The last rally was truly worthy of the Championship match with both players moving each other around showing great thought in their shot choices. However, Theo finally hit the killer blow that Finlay could not get back into court and the championship was Theo's for 2022. Congratulations Theo.
Excellent tennis from all, well done to all children in this group for trying so hard and playing so well!
Under 12 Boys
Just two entries for the U12 boys, Aaron and Riddha. They know each other well, regularly playing against each other so we knew we were in for a treat….. and we weren't disappointed. We saw some incredible points rivalling our senior players at times in the first set, with great serving, topspin crosscourt shots and fine winners. Eventually Aaron took a close first set 6-4.
Aaron found his rhythm in the second set and went ahead early and took it 6-2. It was great to see a sporting match played in such good spirits and at such a high level.
Congratulations to Aaron and well done to Riddha for being such a great competitor.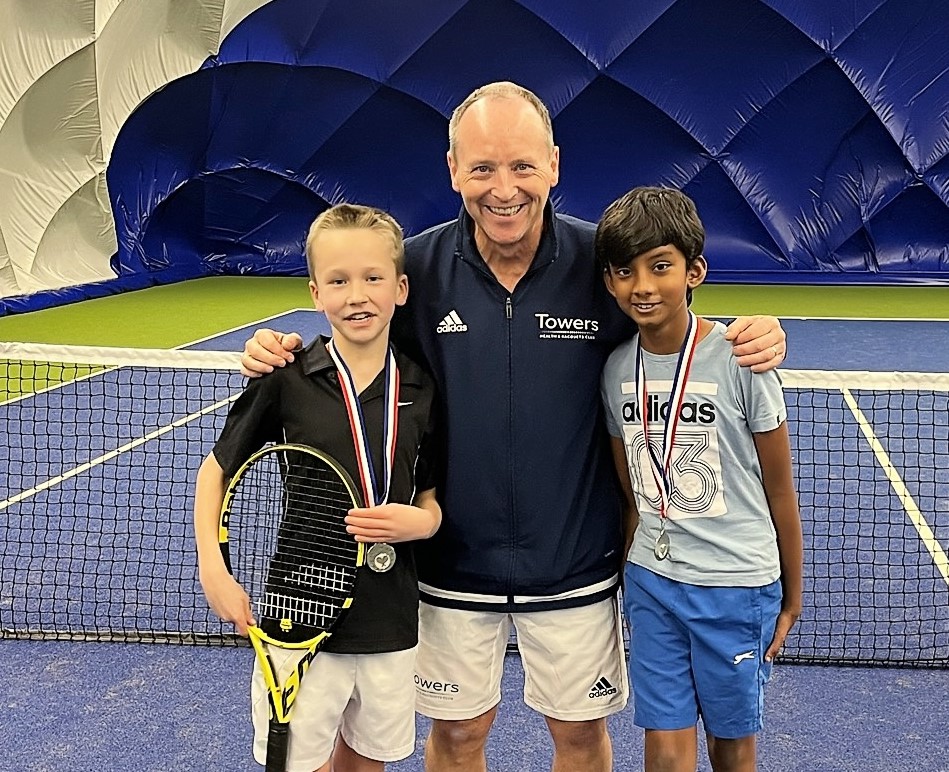 Under 16 Girls
The last two standing were Erin and Censau and they provided a fantastic match. The first set was a little closer than the second set with Erin winning it 6-3 and then running out to an early 4-1 lead in the second set. Censau fought back but Erin maintained her deep shots that eventually proved to be a little too much for her.
Erin winning 6-3 6-2 in a well fought contest played again in a fantastic spirit.
Congratulations to Erin and well done to Censau.
Under 16 Boys
Our finalists this year were Josh and Joseph. They warmed up and looked forward to a good match with both players very motivated to take the prestigious title. Josh slipped into his usual consistent leftie self and probed Joseph's backhand, taking the first set 6-1. Despite a little fightback from Joseph in the second set Josh continued to control the match and won the second set by the same scoreline.
Congratulations to Josh for his win and well done to Joseph for a tenacious effort.
Well done to every junior who entered and competed on Championship Day! We hope they enjoyed it, and that the experience will encourage them to play more. They will certainly have gained a lot from the experience.
Thank you, as always, to the parents for their continued support and bringing your children along. Please do let us know your thoughts on the tournament; we do like to hear them and you can send through to [email protected]. For those on the coaching programme we are holding parent consultations in the week commencing 12th December during the weekly sessions. These will provide an opportunity to see how your children are developing and to ask any questions you may have.
Onwards and upwards for junior tennis in 2023!
BACK TO NEWS