BACK TO NEWS
Juniors Shine in Yellow Ball Tennis Tournament
11 March 2022
Our first yellow ball junior event took place on 5th March with three age groups and eleven players taking up the challenge to win the gold medals.
We ran U12, U14 and U16 categories and all age groups played in a round robin format to determine the winner. Each match was a timed match of 25 minutes, with a final point given if the score got to deuce in the game. We hand over to Head Coach Nick Boys for his report from the afternoon:
U12
We had four players take to the courts in this category ranging in age from ten to twelve.
There were some fantastic matches over the afternoon and the players really pushed themselves to the limit looking for the win. Riddha managed to keep his nose in front and took the gold medal with 3 victories. Congratulations Riddha on a first yellow ball tournament win! Oliver took the runner up spot with two wins, with Erin and Cansu just behind. It was great to see parents on court supporting their children and helping them keep the score. This is tough to do whilst in the heat of battle. The pro's have umpires!
Well done to all players and congratulations again to Riddha on his victory.
U14
Thu U14 age group had three boys taking part that were all very new to competitive tennis but with their eyes on the prize. Ibrahim, James and Joseph all played for a longer time for each match due to their only being three players in this group. This meant a slightly longer rest time but also an opportunity to watch their opponent to look for any weaknesses to exploit in their own match! In the end there was a clear winner in this age group with Ibrahim making both James and Joseph work very hard for any point let alone a game. 2nd place was a dog fight between James and Joseph and after ten games in, Joseph made the decisive move and broke serve and then held his own to take 2nd place with a 7-5 win. Again, it was great to see the parents watching and applauding their lads throughout the afternoon.
1st place to Ibrahim 2nd place to Joseph and 3rd place to James.  Congratulations to Ibrahim and well done to all players for their efforts.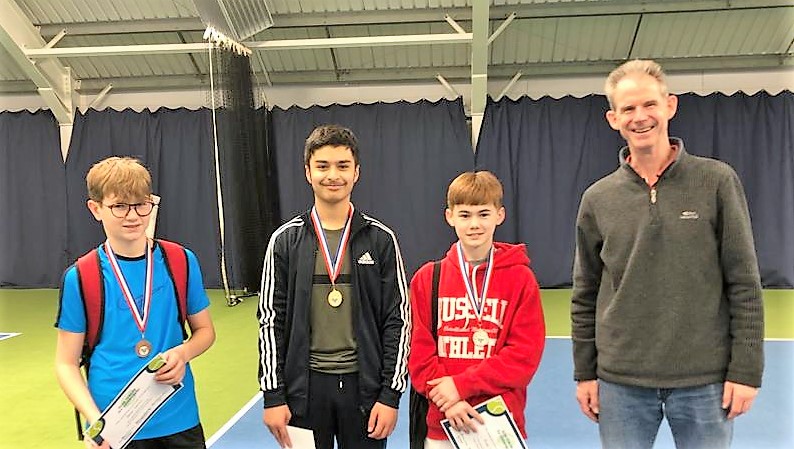 U16
The U16 group consisted of two left handers, a new player to the tournament scene and a great squash player take to the courts for a four player round robin event. Each match lasting twenty-five minutes after their warmups. All the players, Beth, Josh, Jonathan and Milo looked eager to get on the court! We started with the lefties, Josh and Beth slugging it out in a very high quality match that ultimately came down to who moved the other player around the best in this evenly matched game. In the end Josh got the important break of serve and held on to win. Milo and Jonathan were up next and in a match dominated by ever harder hitting and shorter rallies, nothing could separate them and this match ended as a draw. The standout player of the afternoon was Josh as he contained the power of Milo and the experience of Jonathan to remain undefeated and take the title. With Jonathan taking victory against Beth and Milo but then starting to struggle as the afternoon went on, the results were in:
1st place Josh, 2nd place Jonathan, 3rd place Beth and Milo in 4th.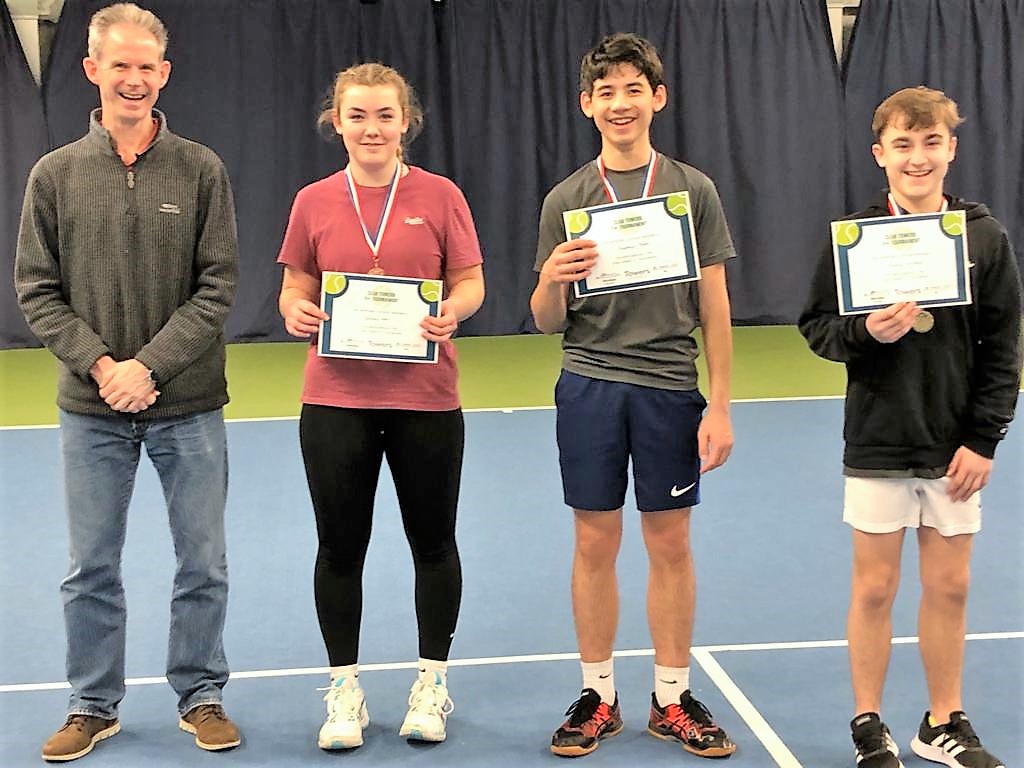 A further thank you to the parents who stayed and watched, cheered, commiserated and celebrated throughout the afternoon with their children.
All in all, a brilliant afternoon of competitive tennis from our juniors, thank you to them for entering!
Matthew Towers is pictured presenting awards.
BACK TO NEWS