BACK TO NEWS
Junior Tennis Stars Shine at our Club Championships
1 December 2021
Our young tennis players were the stars at the Junior Club Championships, our big tournament of the year for juniors, which was held on Saturday 20th November. We had entrants from all age groups and saw some brilliant tennis on the day, with players putting into practice the skills they've been developing during coaching sessions. The competition was intense with some breath-taking matches and some new names on the Junior roll of honour. All players received a certificate and a medal with the winners taking home the trophies. We will hand over to Head Coach Nick Boys for his report from the day.
U8 Hotshots
We started the day with 4 in the draw but were suddenly faced with 4 more on the day, which was great but gave yours truly a few kittens! A small delay ensued whilst the draw was reworked, and we finally got under way. Our three County U8 players showed their talents in winning all their initial matches but the title decider was played between Anoushka and Arka. This was a truly exciting match with great rallies and athleticism from both players. Initially there was not much to separate the two players but at the business end of the tie-break, Arka managed to pull out a small advantage to take the title home. Congratulations to all the players and to the parents who watched and supported their children through the ups and downs of the matches. A massive thank you to Dave and Jennifer who organised and umpired all the matches and kept everyone bouncing along.
U9 Aces
We had three high level players taking part who have been working hard on their games this term. They were eager to get their Championship going, playing each other in a tie break to 15. The first match saw Emma take on Orson; a very close match until Orson managed to get a little ahead with some clever play and took it 15-10. Imogen stepped into the fray to take on a now confident Orson and an even closer match ensued, going neck-a-neck to 9-9 until suddenly Imogen found a rich vein of form to rattle off 4 points in a row. This was to prove decisive, with Imogen taking the match 15-11.
This meant that Emma needed to win against Imogen to keep her title chances alive. It was very close at the beginning, until Imogen fired down a few great serves and took control of the match to run out as a comfortable winner in the end 15-7.
Congratulations to Imogen on her win and some great technical play and very well played to Orson and Emma, who should be very proud of how they played.
U12 Boys
This was a six player knock out draw with Lewis and Oliver the number 1 and 2 seeded players. In the first rounds Riddha and Alfie had comfortable wins and advanced to the semi-finals to take on Lewis and Oliver respectively. Despite Riddha playing at a very high level, Lewis was a little too strong this year and won 4-1, 5-3. Oliver proved a little too consistent for Alfie and won 4-1, 4-1 setting up a final between Lewis and Oliver….. and what a final it was! Lewis took the first set comfortably wining 4-1, with Oliver hitting back in set 2 to win 5-3, and then taking the third set in a tie break to decide the match.
I took to the umpire's chair for this one with parents and supporters cheering on both sides, all of us captivated by the tennis the boys were playing. The first rally had me worrying as to whether we had enough time to finish and after 32 shots both players collapsed to the floor to rapturous applause from the crowd. The intensity was high from both players, both showing great desire and an ability to find an extra shot when needed. In the end Lewis was just a little stronger, winning a great battle 11-9 in the third set breaker. Well done to both players for a fantastic final and keep it up Alfie and Riddha!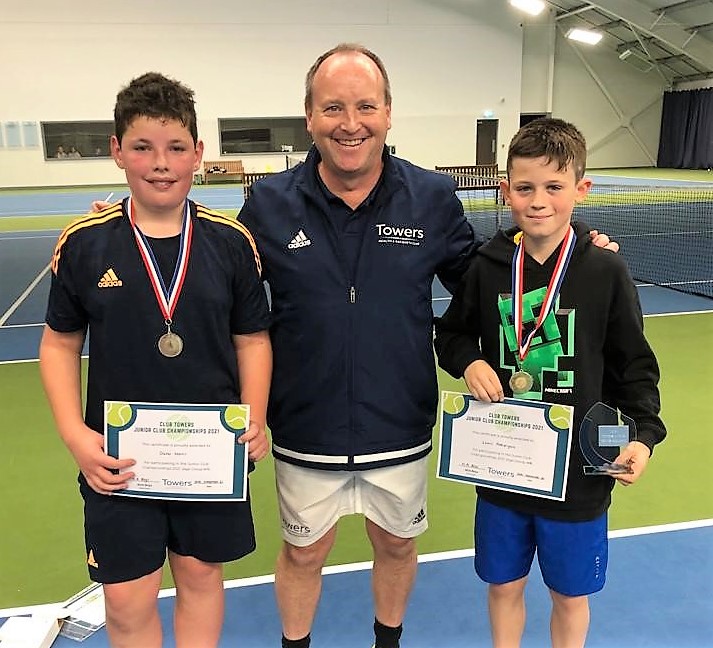 U16 Girls
With several players away or with covid related issues stopping them from competing, we were left with two of the original five to battle it out for the title, and ladies and gentlemen Bethany and Milly did not let us down. This was the longest match of the day by some way and also played at a very high standard.
Milly played a very strong first set, seemingly hitting winners from anywhere on the court and taking the set 4-2. However, Beth dug in and with determination and speed not seen before by all watching, coupled with defensive play, and moving Milly all over the court she won the second set 5-3. The final set tie break ebbed and flowed until Milly took a decisive mini break and looked to be heading for victory, only for Beth to stage a late comeback. This was just a little too late with Milly holding out to win a very close tie break and claim the Championship.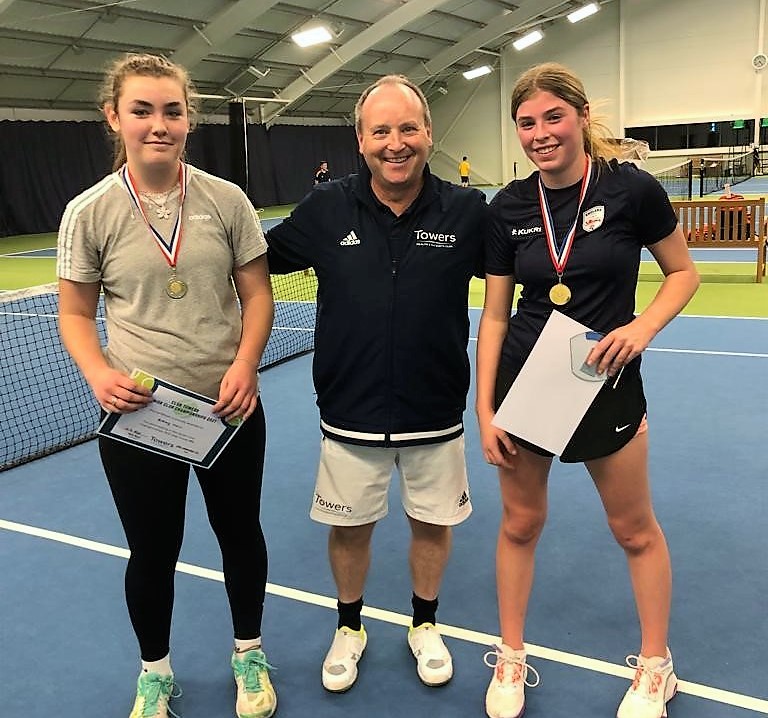 U16 Boys
After amalgamating the U14 entrants into the U16 category to create an eight player draw, Josh and Barnaby started the proceedings with Tom getting a bye after a late player withdrawal due to a sports injury earlier in the day. After a few close early games Barnaby took control and won 4-2, 4-1 to set up a match with Jonathan in the semi-finals, with Tom facing Jack in the other half of the draw. After some early "feeling out" between the players Barnaby and Jack took control of their matches and the first sets. Jack then went on to take the second set and secure his final place. Jonathan however decided to stage a comeback in the second set and saved a few match points and looked to be heading to a 3rd set tie break until a few costly errors took their toll and he lost out in a tight second set.
After a short break Barnaby and Jack took to the final court and once, they had both settled down they delivered a very entertaining game of all court tennis. It was nice to see volleys, passing shots and drop shots as well as the usual heavy topspin baseline drives. Jack took control of the match after an initial nervous start and ran out the winner finishing with a shout of joy.
Congratulations to all the players who took part and played so well! Thank you to the parents for bringing the players to compete and supporting and to Dave, Jennifer and Boglarka for running the tournament. We know we say it a lot but we really do love seeing juniors on our courts being active and playing sport and the day was a real highlight for us.
My abiding memories from this year's championships will be that sport really does bring people and families together. It brings great joy to all who play both during and after playing. That sportsmanship is alive with the way that our young players conducted themselves, learning that even if you put in the performance of your life, sometimes you will come second and it will hurt for a while, but next time if you carry on working hard, maybe you will get the win!
BACK TO NEWS