BACK TO BLOG
Fighting Back Against Long Covid – Inspiring Member Story – Marianna Slivnitskaya
We were recently sent this message by one of our members, Marianna Slivnitskaya and it really moved us. After discussing it with Marianna, we decided to share her story with you in the hope that it might inspire others.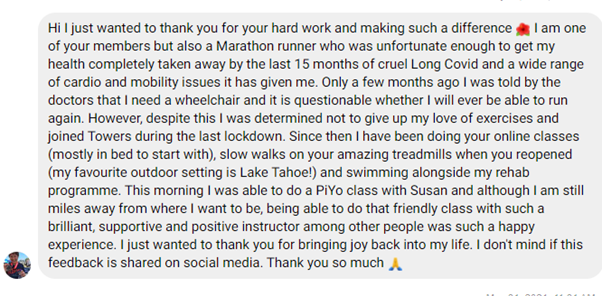 We got in touch to say thank you and to find out more about her fitness journey and how, despite everything that Long Covid is throwing at her, she's taking control of her fitness and wellbeing.
Marianna has been a member of the Club since we reopened this year and prior to March 2021, an extremely active and healthy human! She regularly ran half marathons and long distance running was a huge part of her life. For her, running provided so many things: it was time for herself, time to clear her head, time to help her make decisions and an important stress relief tool. She also loved the social side of running, meeting up with friends or meeting new people at races across the country.
In March 2020, Marianna caught Covid, and had a mild reaction to the virus, losing her taste and smell. As she felt well, life largely continued as normal; she carried on running and felt she had recovered. In the Summer she ran a half marathon, but afterwards felt very unwell and had severe chest pains which at the time was a suspected heart attack. After lots of tests trying to work out what was wrong with Marianna, it was suggested that she was suffering with Long Covid, something relatively new and unheard of at this stage of 2020. Sadly, Marianna continued to deteriorate in health and by Christmas she was so breathless she could barely walk. On some days she was in constant pain, primarily in her chest but also in other parts of her body, with her legs going numb. She tires very easily and what feels particularly cruel is apparent the lack of progress; some days are good, but they then can be followed by several bad ones. Marianna has spent some time identifying the triggers for the bad days – things such as alcohol and stress – and does her very best to avoid these.
On her good days in the early part of this year she was able to do some of our Club Towers Live classes online from her bed, moving as much she could when she could. Then when we were able to re-open in April 2021, she started coming into the Club and has been doing so ever since. Marianna now comes in every day as it's part of her routine. She walks from the car, up the stairs and does as much as her body will allow on each day on the treadmill – some days this might just be 2 minutes. She swims on the good days as well and is doing everything she can to rebuild her strength and fitness levels.
At the end of May she went to her first Piyo class with Susan and hasn't looked back. For those not familiar with Piyo, it is a Pilates (Pi) and Yoga (Yo) inspired workout combining the strength work of Pilates with the flow of Yoga. It is high intensity but low impact and importantly for Marianna you are able to tailor each move.
Since then, Marianna has been going to the class most Fridays and is really enjoying the friendly community as well as the support Susan provides. She can see how she is feeling each week and adapt accordingly but is still able to exercise and whilst, as she says above, it's not at the level she is used to or would like to be at, it still feels good to be moving and sharing that experience with others. She really hopes that by sharing her experience she encourages others who may be struggling to get back to exercise/activity, by taking one step at a time, one day at a time.
We would like to thank Marianna for sharing her story with us and for trying to help others – we really appreciate it! It's been an absolute pleasure getting to know her and to see her smiling face in the Club. Her strength and determination is so inspiring and we really do hope that in time her body will recover further to allow her to get back to the long distance running that she loves.
BACK TO BLOG