BACK TO NEWS
Racquets Marathon Raises £7,500 for Local Charities
18 October 2023
We are overjoyed to share the news that our owner and MD Matthew Towers and Club member Andrew Hayward successfully completed their amazing challenge of 24 hours of Squash and Tennis respectively.  They both played for 24 hours from 5pm on Friday 6th October through to 5pm on Saturday 7th October, only taking toilet and brief refreshment breaks.  An absolutely awesome achievement and the best bit is that they've currently raised £7,500 (including gift aid) for local charities FACES and St John's Special School in Kempston.  If you wish to add to this total, it is not too late! Please visit the fundraising page here.
The pair were supported by members throughout the 24 hours with over fifty adults and juniors joining them to play either in midnight tournaments or sessions such as beat the coach, a drills session, or in singles and doubles matches. Their energy and enthusiasm certainly helped keep Matthew and Andrew going! As did the donations total going up throughout the night and day. Thank you to all members who signed up to play; we think there was a great supportive atmosphere and hope you agree! Everyone mixed in, whatever their playing ability, with the primary goal of supporting Matt and Andy which was really special. We've listed all you superstars below.
We won't cover the full 24 hours but will share some highlights and we will start with the impressive costumes for the midnight fancy dress tennis tournament.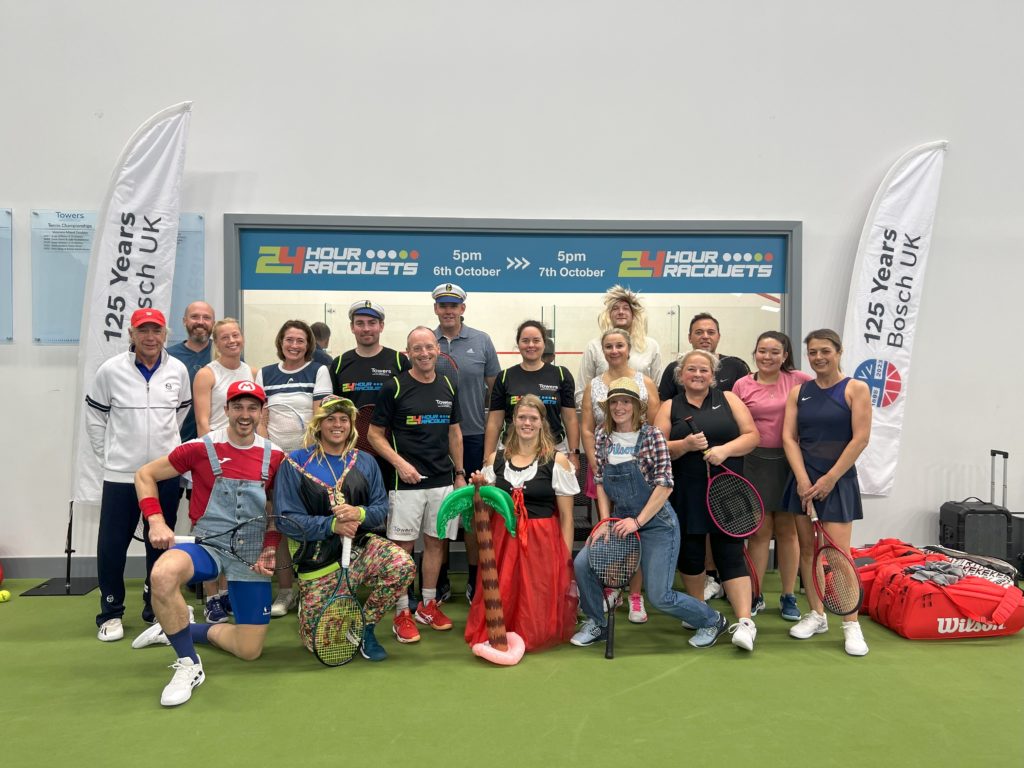 Garry Morris was the winner, with the highest average score throughout the tournament. We imagine this meant as much if not more than the Club Championships and other accolades he's picked up across the years!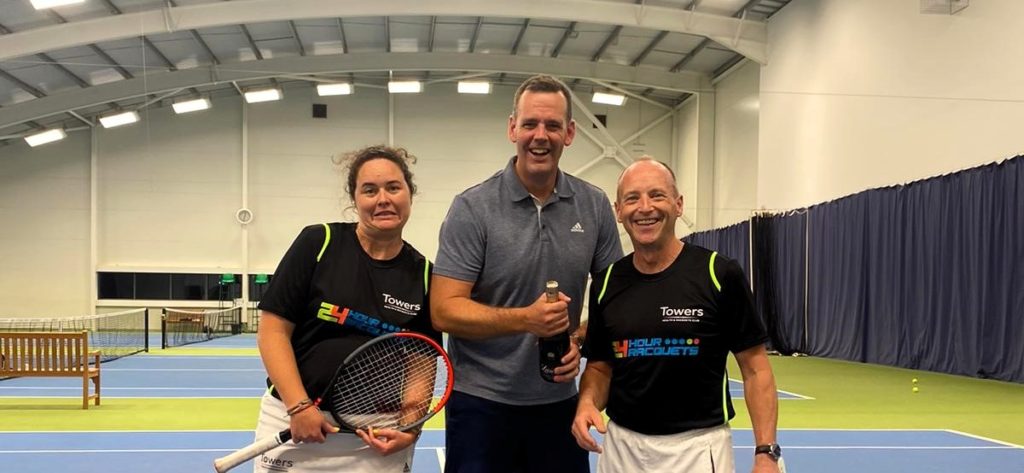 Shout out to Head Coach Nick Boys for working his magic to put on a 4-hour tournament to cater for everyone and to those who played in good spirit. Thank you to coaches Boglarka and Paul who supported him and Andy, but particularly Boglarka who we think also played 24 hours over on both courts!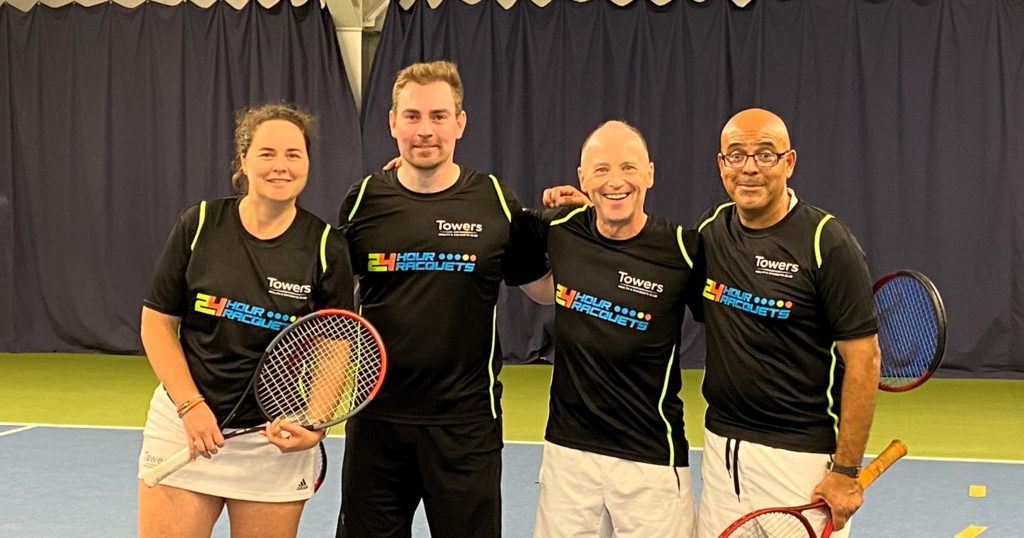 Amazingly, Andy recorded the fastest serve in the early hours at 105mph and won that competition, followed by Claire Raddan with 90mph, a terrific effort after four hours of tennis. He was disappointed that he could only get 100mph on the Saturday session at 2pm, but we think that's still majorly impressive!
Over on the squash courts, a bottle tournament took place, another new tournament for us but again one which was a lot of fun and was conducted in a friendly competitive spirit. There was so much fun in fact (and beer!?) that no-one took scores or noted the result! All were winners!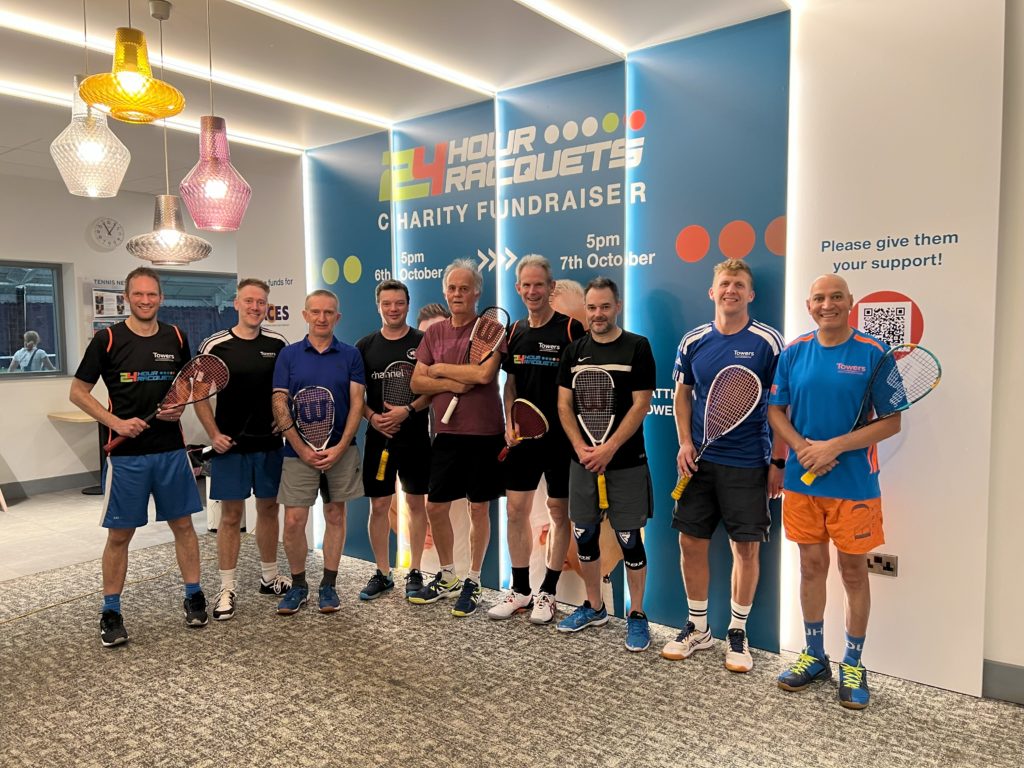 On Saturday morning our squash juniors enjoyed Matt joining them for their coaching and put Matt through his paces in their warm ups.
Both players finished the tournament playing against their families, Andy had the slightly easier feat here as he played against his young nephews although his mum, dad and sisters, all experienced players, gave him a good run in some competitive doubles matches.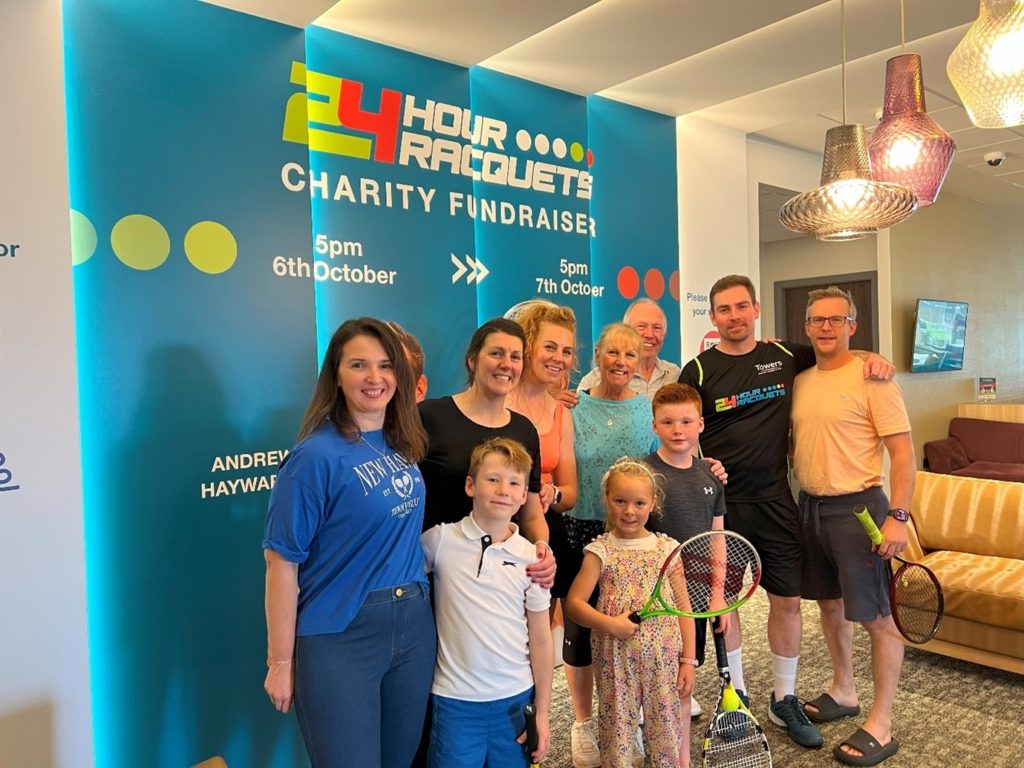 Matt had the slightly harder challenge as his sixteen-year-old son and competitive squash player showed no mercy and took the opportunity to beat his dad for the first time in his 22nd hour, cheered on by his big brother!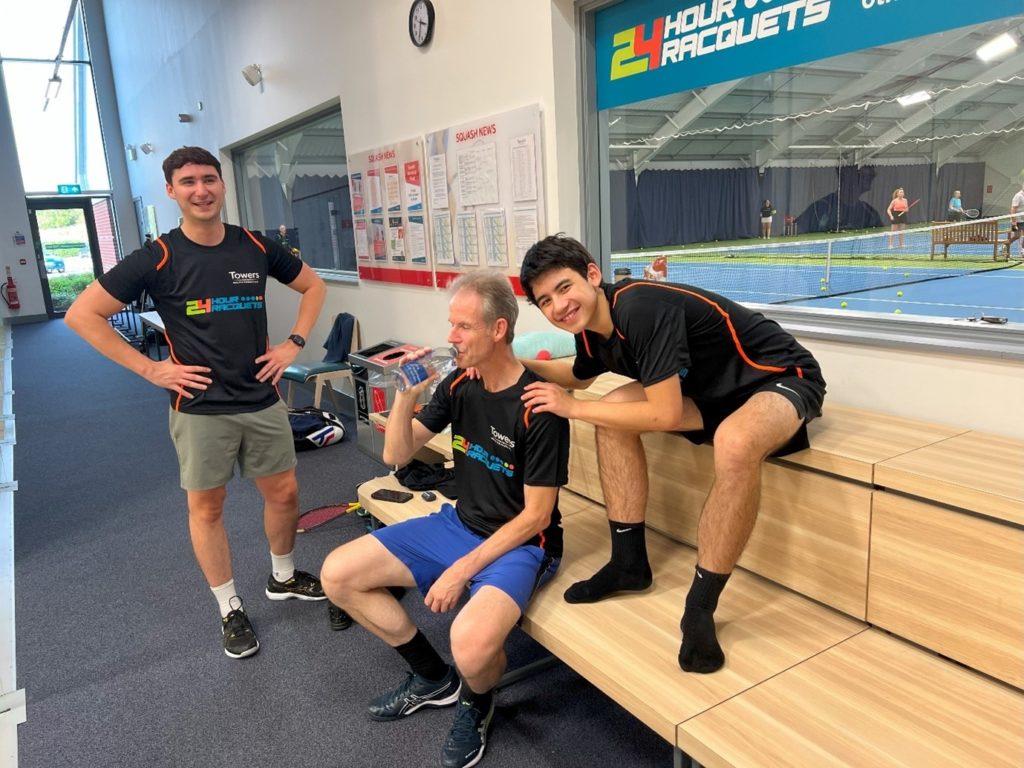 The perfect ending was in our Club Lounge, with one of our Head Chef Marlon's brilliant buffets. Very well earnt by both Andy and Matt and those that supported for long periods of time.
Speaking to Andrew at the end of the event he shared; "It was certainly much harder than I thought it would be! When I got to 5am, I did think perhaps I should have suggested 12 hours! Thank you to everyone who played with me across the 24 hours, it really helped keep me going, thank you also to those who donated. I'm thrilled we've raised so much for two such amazing charities."
Matthew echoes his sentiments "The challenge was every bit as hard as I expected and I certainly could not have got to the end without a lot of support from my playing partners, who kept me going when times were tough! Many thanks to all that helped in any way and supported through their generous donations."
This is a first for the Club after member Andrew instigated the 24-hour tennis challenge earlier this year with Matthew signing up shortly afterwards and we are delighted to have raised so much. Michaela Martindale from FACES wanted to thank the duo: "We would like to offer our gratitude to Andrew and Matthew for undertaking such a challenging feat for us and to all the members for their support in participating in the event to raise money for FACES. As a small charity supporting local residents, the money raised from events like these can go directly in to ensuring families get the right support at the right time to improve their lives".
Amanda Rizzo, Assistant Headteacher and St John's also wished to share thanks from the school: "All the pupils and staff at St John's Special School are over the moon to be supported by the fantastic members of Towers Health and Racquets Club. Donations are vitally important for us to be able to provide the best quality resources that enhance and develop the curriculum for our pupils. Special thanks to Matthew and Andrew for undertaking such an ambitious challenge, we are extremely grateful and hope it hasn't put you off playing in the future!!"
Thanks again to everyone who supported and donated and congratulations again to Matt and Andy!
Next year? Never say never!
For those at the event, you will know the paparazzi were quite relentless with their photos and you can see many of these over on our Facebook page.! If you would like any of the photos, please email Jo, on [email protected].
Members Who Played Matt and Andy across the 24 Hours – Thank You!
Claire Grant, Glenn Rudd, Debra Schmidt, Garry Morris, Mario Santos Costa, Nick Murthwaite, Srikrishna Sreedhara, Philip Reynolds, Russell Bland, Tony Blott, Dorian Abram, Tom Corbett, Ian Thomas, James Foley, Amanda Greenland, Emma Hume, Alfie Saywell, Nick Spenceley, Vanessa Clewett, Simon Tucker, Megan Henthorn, Esteban Stewart, James Keothavong, Rebecca Garrard, Krystal Heath, Max Burgoyne, Sophie Cable, Jolanta Hawryluk, Massimo Ciampi,, Sophie Zillmann, Dragana Warwick (Missi!), James Mackley, Alice Richardson, Steve Davies, Steve Adams, Julie Humpherson, Claire Raddan, Adrian Phillips, Sue Middlemas, Jen Eccles, Marlon Erne, Bob Amos, Joseph Masih, Brook Harris, Carmelina Milazzo, Alex Buckhurst, Jools Cooper, Phil Jenkins, Ian Rounce, Babs Rai, Lee Robinson, Will Montgomery, Jonathan Towers.
BACK TO NEWS