BACK TO NEWS
Celebrating 5 Years of Time Well Spent
24 March 2022
What a day! A heartfelt thank you to all those members who joined us last Saturday (19th March) to celebrate our 5th birthday. We opened the doors for a soft launch to our 500 Foundation Members on the 20th March 2017 and fully opened the Club the following week on the 27th March. It's been a fantastic five years with so many highs and a few (Covid) lows but the Club is back to full strength and absolutely thriving which is wonderful to see. We wanted to mark the occasion and had a full day of celebrations planned.
Our gym team Jan, Billy, Mark, Shanice, Maija and Neeraj started us off by putting on a full morning of our popular gym floor workouts, offering seven 30-minute sessions on our Omnia rig from 7.30am to 2.30pm. We saw plenty of regulars but also some new faces trying the workout for the first time – we hope to see you back around the rig again soon.
On the squash courts, it was time to dust of those 80s wooden racquets and dig out those tight white shorts for an 80s Team match. Eighteen members took part in the match, which used the old fashioned hand-in, hand-out scoring. This made the games quite a workout, and it also took a few games to get used to how much harder it is to hit the ball with a wooden racquet! A good time was had by all and ex-England Masters Champion Sandra Wrench presented the prize for the "best dressed" to Ian Thomas, pictured below.
Fitness in the Bubble returned and saw over 120 taking part in a two-hour group exercise class on our undercover tennis courts. Led by our Fitness Manager Katy and five of our awesome instructor team Jayden, Garry, Ana, Amanda and Susan, members were taken through a mash up of Body Attack, Body Combat, GRIT Cardio, Zumba, LBT, Circuits, Les Mills Core and Body Balance. Despite it being a little warm everyone did so well, with the infectious energy and enthusiasm filling the dome and beyond.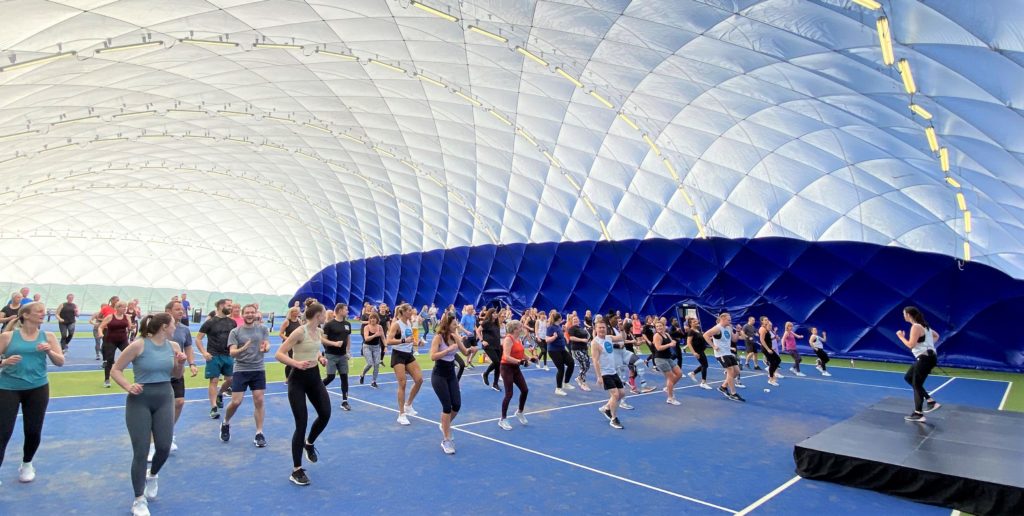 The tennis courts were an oasis of cool calmness as the coaching team put on a session of drills and points and members also got to see how fast their serve was. 88mph was the fastest recorded on the day by member George Swallow. The coaches were then put under the spotlight as it was time to see who could beat coaches Nick, Tom, Dave and Boglarka. Nick and Dave paired up for doubles and were only beaten twice on the day. Tom was "thrashed" by junior member Aaron (pictured below) and Boglarka and opponent Craig Westley put on a thrilling match which did see her narrowly beaten. A captivating match for those spectating.
Junior members were treated to some very creative and colourful face painting and some intricate balloon modelling fuelled by the children's imaginations. Both were extremely popular! Toni and Lucy in the Kids Club had a fun afternoon with 25 children playing games and creating arts and crafts and a further 15 children joined instructor Amanda in the bubble for a dance class. We loved seeing parents joining in to get moving and enjoying a dance with their children.
Head Chef Marlon and the whole Club Lounge team did a superb job of keeping us all fuelled with a free buffet all day long, starting with a delicious continental breakfast followed by a full table of appetising lunch options. The sun shone kindly for us meaning the Club Lounge terrace was open and full for the first time this year.
Thank you to all took part in any of the events or just came into the Club on the day. We hope you had a great day and enjoyed it as much as we did!
We think you'll agree, it was a day well spent and marked five years of time well spent in the best possible way.
There are some more photos from the day here.
BACK TO NEWS