BACK TO NEWS
2023 Tennis Club Champions Crowned
19 October 2023
Our Tennis Club Championship Finals took place last weekend; the culmination of a record 95 players across 10 events battling their way to the finals through 3 months of knockout round matches.
Open Finals
The first match on court on Saturday was the Ladies Singles between Debra Schmidt and Jolanta Hawryluk, with an expectant crowd watching intently. They settled into a pattern of long rallies as Debra's shot depth and solid defence took the sting out of Jolanta's big groundstrokes to secure the vital break in the first set. Spurred on by Jolanta taking greater risks Debra raced through the second set to retain her title, 6-3, 6-1.
The Mens Singles final saw our reigning five-times champion James Keothavong attempt to defend his title against first time finalist Dorian Abram. With Dorian's power game and fast serve, would this be the year when James would be defeated? James had come through a very tough semi-final against Adrian Smart earlier in the week, so would he be as sharp as usual? There was a good spirited crowd as both players had family and friends in situ, with a Polish banner on show in support for Dorian, which translates to "Lets go Dorian!".

The match started at a fast pace with Dorian pressing James with his big hitting and forging ahead. Dorian served for the first set at 5-3, but James rallied to win four games in row to clinch the first set 7-5. The second set followed a similar pattern. Both players raised their level with power and accuracy as Dorian built a good lead to serve for the set at 5-2. A crucial missed volley by Dorian enabled James to break back, and he then took five consecutive games to win his 6th title to raptuous applause from the crowd. Two very tight sets to be crowned our 2023 and six-times champion, winning 7-5, 7-5.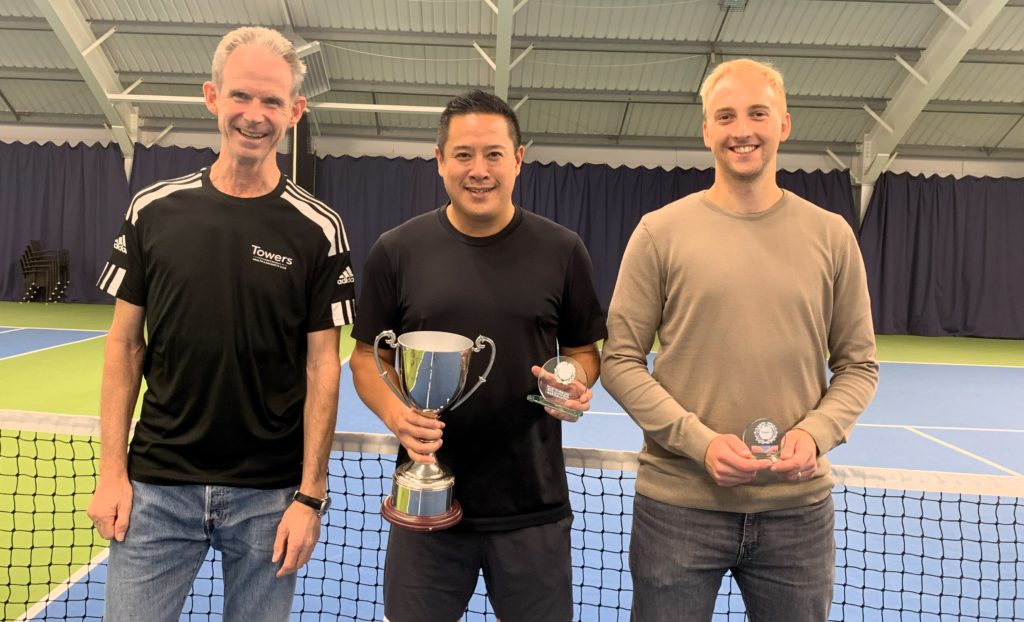 Our defending Ladies Doubles champions, Jolanta and Sophie Cable took on new pairing Debra Schmidt and Claire Raddan. It felt destined to be a tight match and so it turned out. After several breaks of serve in the first set Debra and Claire found another gear and served out the first set 6-3. The second set seemed to swing Jolanta and Sophie's way, but crucially they were broken when serving for it, and so it went to a tie break. Debra and Claire's court craft came through as they clinched the tie break and therefore the title, 6-3, 7-6.

The Mens Doubles was an eagerly awaited rematch of last year, with James Keothavong and Garry Morris seeking to defend their title against Massimo Ciampi and George Swallow. Solid serving and clinical volleys saw the first set poised at 4-4 …. before James and Garry secured a crucial break. Despite some resilient defending by the challengers James and Garry held serve to take the first set. They broke early in the second set too before being pegged back, and Mas and Garry forced a tie break. Some power rallies on both sides swung the lead one way then the other, until James and Garry found two vital points in a row to seal the win and retain their trophy……6-4, 7-6.

Jolanta now played her 3rd final of the day in the Mixed Doubles with partner Mas, against Sophie Cable and Tom Corbett. Both pairs were hoping to win their first Mixed title, after Sophie and Tom had knocked out four-times champions Claire Raddan and Garry Morris in the quarter finals . A tight first set went to a tie-break, narrowly won by Sophie and Tom. Mas and Jolanta rallied in the second set but Sophie and Tom made the vital break through to triumph 7-6, 6-4. New names on the champions board!

At the trophy presentations James was asked by Matt Towers what was his secret for how he often pulls back from the brink of defeat to win his titles. James credited his mentality in the tough situations – the ability to refocus – which is surely testament to him being up close to the greats of the game when in the umpire's chair.
Vets Finals
On Sunday we played the Vets Finals. Players have to be aged 45+ to qualify for Vets events and 60+ to qualify for SuperVets.

Claire Spires and Mark Wasilewski faced Juliet Johnson and Neil Anderson in the Supervets Mixed Doubles final. Claire and Mark settled quickly and took an early lead, with Juliet and Neil hampered by recent minor injuries. They rallied early in the second set but Claire and Mark kept the momentum and held on to clinch the title 6-2, 6-2.
Afterwards Mark signed balls courtside for his fans!

In the Vets Mens Singles Adrian Smart and Arif Hakim treated the crowd to an old school show of serve and volley tennis much to the delight of some in the crowd. A strong and powerful first set display at the net from Adrian saw him take it 6-1, leaving Arif to ponder how to change his fortunes. In the second set, Adrian charged 5-2 ahead, closing in on the title, but Arif fought back with some amazing serving and returning … narrowing the lead to to 5-4. As Arif tired Adrian upped the tempo with silky groundstrokes and ghosting in to the net, winning 6-1, 6-4.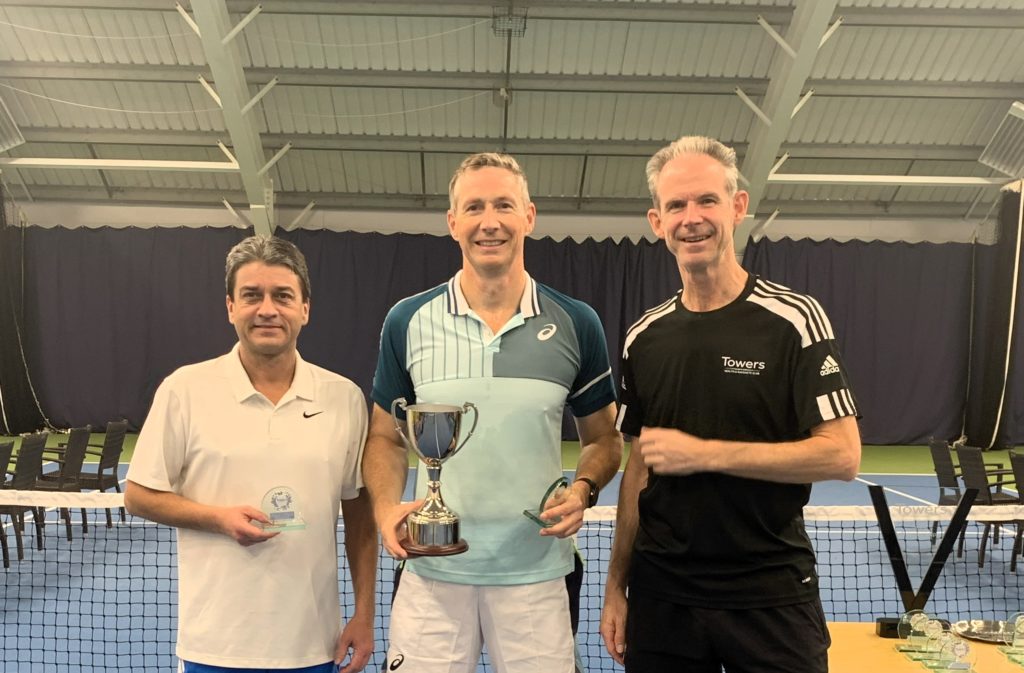 After a short break the Vets Mens and Ladies Doubles were played. Arif returned to the court with David Seymour to take on vets stalwart Glenn Rudd and his partner Ian Grove, in Ian's first final. Top seeds Arif and David played a great first set with two breaks of serve and took it 6-3. However, Glenn and Ian changed their tactics, taking the second set by the same score 6-3. And so to a championship tie break. With momentum on their side Glenn and Ian raced to claim the title, 3-6, 6-3, 10-5.

The Vets Ladies Doubles was more one sided this year. Top seeds and defending champions Emma Tatum-Hume and Amanda Greenland faced first time finalists Karen Wright and Elaine Teale for the title. The first set seemed quite close with most games going to deuce, but Emma and Amanda won the vital points to take the set. They continued their run of games in the second set, but Karen and Elaine were not done yet. They pulled a game back and the crowd hoped for a comeback. Alas It was short lived as Amanda and Emma served out the match to take the championship 6-0 6-1.
The last match of the weekend was the Vets Mixed Doubles with Arif in his 3rd match of the day with partner Lily Granger, taking on top seeds and defending champions Nick Sleap and Emma, fresh from her Ladies Doubles victory. A powerful serving and returning start from Emma and Nick saw them race into the lead, taking the first set 6-1.
The second set was a much closer affair up to 3-3 with some excellent rallies and volley winners by both pairs. But then Emma and Nick got the vital break. The wind seemed to leave Lily and Arif as the top seeds took advantage and closed out the match 6-1, 6-3.
Thank you to the 95 players who entered the championship events this year. Also to all the finalists for your competitive and fair play and to those supporters and members who came to cheer them on.

Here's to an even better championships in 2024!
Nick Boys
Club Championships
| | Winner | Runner Up | |
| --- | --- | --- | --- |
| Ladies Singles | Debra Schmidt | Jolanta Hawryluk | 6-3, 6-1 |
| Mens Singles | James Keothavong | Dorian Abram | 7-5, 7-5 |
| Ladies Doubles | Claire Raddan / Debra Schmidt | Jolanta Hawryluk /Sophie Cable | 6-4, 7-6 |
| Mens Doubles | James Keothavong /Garry Morris | Mas Ciampi / George Swallow | 6-4, 7-6 |
| Mixed Doubles | Sophie Cable / Tom Corbett | Jolanta Hawryluk /Mas Ciampi | 7-6, 6-4 |
Vet and SuperVet Championships
| | Winner | Runner Up | |
| --- | --- | --- | --- |
| Super Vets Mixed | Mark Wasilewski / Claire Spires | Neil Anderson /Juliet Johnson | 6-2, 6-2 |
| Vets Mens Singles | Adrian Smart | Arif Hakim | 6-1, 6-4 |
| Vets Mens Doubles | Glenn Rudd / Ian Grove | Arif Hakim / David Seymour | 3-6, 6-3, 10-5 |
| Vets Ladies Doubles | Amanda Greenland /Emma Tatum-Hume | Karen Wright / Elaine Teale | 6-0, 6-1 |
| Vets Mixed Doubles | Emma Tatum-Hume / Nick Sleap | Arif Hakim /Lily Granger | 6-1, 6-3 |
BACK TO NEWS